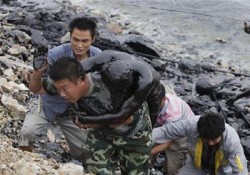 The oil industry has another black eye. On Friday, two pipelines exploded near Dalian, in the Liaoning province of China, spilling oil into the Bohai Gulf. The spill's size has doubled in recent days, with crude oil now covering 165 square miles of water.
While not yet anywhere near the size of the sprawling, 2,700-square-mile Gulf disaster, the spill couldn't have happened at a worse time for battered oil executives. The China explosion occurred the day after BP finally managed to stem the Gulf gusher, however tenuously.
At least one emergency responder, a 25-year-old named Zhang Liang, drowned Tuesday after he and another firefighter jumped into the water to fix a broken pump. Several of my colleagues at Greenpeace China were witnesses to this horrible event:
The Greenpeace team was on the scene when Zhang Liang and his colleague jumped into the ocean to fix an underwater pump, which was heavily clogged by petroleum and debris. A sudden strong wave swept Zhang away. While his fellow workers attempted to rescue him, the heavy oil choking the water – some twenty centimeters thick at an eyeballed estimate – made any rescue effort nearly impossible. The second firefighter was eventually pulled from the ocean alive, but Zhang was not found until hours too late.
Some pretty dramatic photos show workers as they tried to rescue the two courageous men. In one photo,  a man is carrying the rescued firefighter, who is coated in thick, black oil. The pictures are horrifying, to say the least.
I haven't seen this corroborated independently anywhere, but, according to the Associated Press, the state-run Xinhua News Agency is reporting that the Chinese government is moving aggressively to stop the oil from flowing into international waters, deploying 40 oil-skimming vessels and 800 other boats, as well as oil-eating bacteria. Dalian's vice mayor told Xinhua that the government wants to collect the spilled oil within five days, but an official at the State Oceanic Administration warned that such a rapid clean-up operation would be difficult. Though it's not as big as the BP spill, this China disaster will no doubt have a grave impact on local ecosystems.
The disaster further underscores how drastically urgent it is to end our unsafe oil addiction and kick-start a clean energy switch. For our own sake and the planet's, we must leave fossil fuels in the past where they belong.
And this isn't just a U.S. thing. As Greenpeace China's head climate campaigner, Yang Ailun, put it, "From the Gulf of Mexico to the Gulf of Dalian to the numerous coal mine accidents, it is tragically obvious that economic development built upon fossil fuels is unsustainable and comes at a high price."
Photo credit: Jiang He / Greenpeace