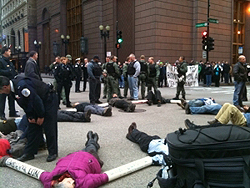 Is climate change the new frontline in the fight against corporate globalization? It certainly looks that way, which means the Copenhagen climate summit, which starts next week, should be a massive convergence.
We got a taste of what's in store as climate activists took to the streets today — the 10th anniversary of the unprecedented mobilization that occurred in Seattle to protest the corporate-driven globalization agenda at the WTO talks in  Seattle, what's come to be known as "the Battle in Seattle" — as part of the Mobilization for Climate Justice.
Reports are already starting to come in from the events being held around the US and Canada today, all of which target climate criminals like JP Morgan Chase, Chevron, BP, and American Electric Power. In Chicago, for instance, ItsGettingHotInHere.org reports:
Chicago climate activists returned to the streets today – this time in the financial district in downtown Chicago – in a colorful demonstration against cap and trade, carbon offsets and other "false solutions" to climate change. Building on the long-term campaign to shut down the Crawford and Fisk coal-fired power plants in the city, community and environmental groups from across Chicago and beyond have come together to demand just, equitable, and effective solutions to the climate crisis.

The main target of today's action is the Chicago Climate Exchange, the first and largest carbon market in North America. Several other "climate criminals" were visited during a march, including JP Morgan Chase, one of the leading funders of mountain top removal coal mining; Midwest Generation, the owner of Chicago's two coal-fired power plants; and the Board of Trade, which trades in palm oil, one of the leading drivers of rainforest destruction.

The event kicked off at 11a.m. at Federal Plaza (Adams and Dearborn Street), and is part of a national day of action called for by the Mobilization for Climate Justice in the lead-up to the UN climate summit in Copenhagen and on the 10-year anniversary of the successful shutdown of the WTO in Seattle in 1999.
Other mobilizations for climate justice include a 'Die-In' at the Department of Public Health and Environment in Denver, CO; a "Sit-In for Climate Justice" in Ontario; and a blockade of a coal shipment at the Cliffside coal plant in Greenville, SC.
Read about the many other events happening today, plus find plenty of video and photos, on the Mobilization for Climate Justice Newswire.