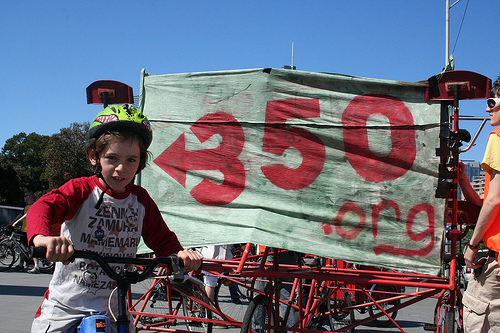 When 350.org's international day of climate action went down on October 24th, it was billed as the biggest mass action on global warming in history. More importantly, it was part of "a drumbeat of worldwide and local climate events that have been building towards an enormous outpouring of climate action and activism at the Copenhagen climate talks," in the words of Tcktcktck.org's Richard Graves. So what's next and how can you get involved?
You can participate in the "Mobilization for Climate Justice" that will be happening around the country on Nov. 30th. Check here to see if there's an action near you. If there isn't, then you can plan an action in your area.
Here's some advice from the organizers: "If you're organizing an action from scratch, we'd suggest you go after one of the following companies: Bank of America, JP Morgan Chase, Morgan Stanley, Chevron, BP, or American Electric Power. We picked these six companies because they're all, through their investments, lobbying, and day to day business, going out of their way to obstruct real solutions to the climate crisis. For more info about them, see our Corporate Criminals page."
The Mobilization for Climate Justice is being organized by David Solnit, one of the chief architects of the protests that shut down the WTO meeting in Seattle in 1999. He recently told Naomi Klein of the Nov. 30th day of action: "This is definitely a Seattle-type moment. People are ready to throw down."
Another international day of action is being planned for Dec. 12, during the UN climate treaty negotiations in Copenhagen. Called "The World Wants a Real Deal," the day of action is timed to happen at the mid-point of the Copenhagen talks: "At this crucial moment, amidst the culmination of years of preparation, organizing, and negotiation around the globe, the World Wants a Real Deal will send a resounding message to the world leaders and negotiators in Copenhagen that the public is ready to sign a Fair, Ambitious and Binding treaty."
Go here to sign up to host an event in your community.
The momentum is building. We can stop global warming, but we all have to stand up and demand our leaders actually lead.