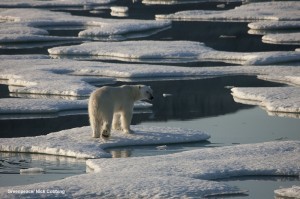 Nowhere in the world are the effects of global warming more plain than in the Arctic. Glaciers across Greenland, for instance, suddenly started disintegrating and gushing melt-water into the ocean at an alarming rate in the first half of this decade.
The melt accelerated so much that scientists began to fear that the entire Greenland ice sheet — which contains enough water to raise sea levels as much as 20 feet — might be in serious trouble.
A Greenpeace expedition to the Arctic has been searching for clues that might explain this unprecedented meltdown. The Greenpeace ship Arctic Sunrise made history when it successfully navigated the entire length of the Nares Strait in mid-June — a time of year when the strait is typically impassable because of sea ice. The crew has sent back some startling images of the impact global warming is having on the Arctic, while independent scientists onboard have confirmed that warmer water from Southern latitudes was not only making its way up to Greenland's glacial fjords but also lapping at the glaciers themselves, contributing to their decline.
The National Snow and Ice Data Center announced today that 2009 saw Arctic summer sea ice recede to the third lowest extent ever recorded. The agency restated its warning that the Arctic could be free of sea ice altogether in the summer as soon as 2030.
Polar bears have been listed under the Endangered Species Act because their crucial sea ice habitat is vanishing; Pacific walrus are now being considered for listing as well. Milder winters have caused some sea geese to stop migrating South for the winter.
Even with these danger signs in the Arctic, world leaders have made no significant progress addressing climate change, largely because they're waiting for the US to lead the charge. Will we come through? The Guardian recently published a very troubling report that far from getting out in front on climate policy, the Obama administration has made new proposals that would massively restructure the treaty to be discussed at this December's international climate negotiations. "Sources on the European side say the US approach could undermine the new treaty and weaken the world's ability to cut carbon emissions," reports the Guardian.
So where is the global movement demanding that President Obama and the rest of the world's leaders take bold action?
A new global climate action campaign, TckTckTck.org, aims to be that movement. Representing a coalition of groups, including Greenpeace, Oxfam, Avaaz.org, Christian Aid, 350.org, and many, many more, TckTckTck has already logged over a million signatures of people who have joined together "to show world leaders that the support for a fair, ambitious, and binding climate treaty is diverse, broad, and crosses borders."
In addition to aggregating signatures from concerned citizens the world over, the TckTckTck.org website has some pretty cool and useful features to help you stay on top of the news, get active, and organize your own circle of friends and family. The site features a "major moments" calendar that lays out the key dates from now until the Copenhagen climate talks, as well as a lot of excellent content, such as the climate "Campaign Stories" blog.
It also features a tool really like: the climate orb – an interactive globe that lets you explore people's stories about how climate change is already effecting their lives.
Signing on with TckTckTck is a great way to show world leaders that there is broad support among citizens of Earth for bold action on global warming. But if you prefer to act a little closer to home (and right here on Change.org no less!), you can sign this petition by Earthjustice calling on the Obama adminstration not to open the newly ice-free Arctic to drilling.
Or you can sign the United Nations Foundation's petition calling on President Obama to support a strong international climate treaty in Copenhagen.
Or if it's real-world action you prefer — and you can be in Pittsburgh next week — you can join the climate contingent at the People's Uprising march that will take place Sept. 24, during the meetings of the Group of 20 (G20) major world economies.
As I wrote last week, inaction is the biggest danger we face: Absolutely nothing will happen unless you get out there and make your voice heard. Whether it's signing a petition, making a phone call, or marching, join the global movement demanding fast, bold and effective action to stop global warming.